Kuala Lumpur, Malaysia (March 2007)
Kuala Lumpur, or KL as it is usually referred to, is a modern city with several cultures coexisting in harmony: Chinese, Malay, and Indian. This makes it very interesting because of its variety, and the people are extremely friendly and nice.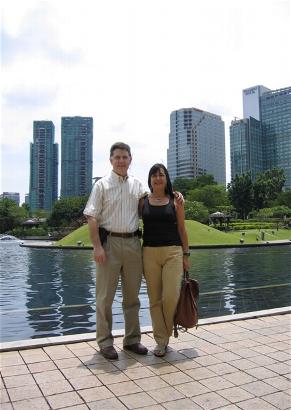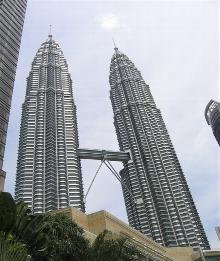 Going for a walk on Saturday morning. Petronas towers, best known site in KL.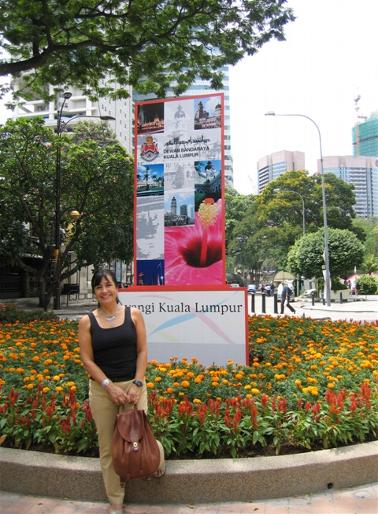 Walking around the city.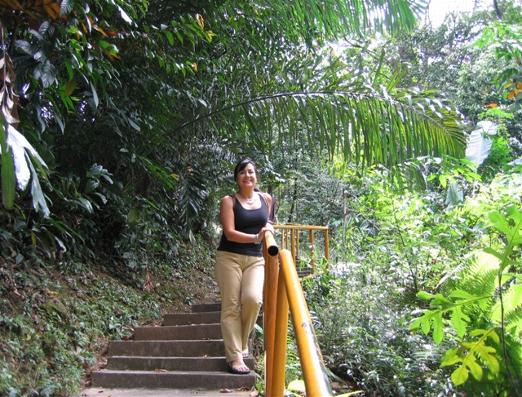 Experiencing some jungle with muggy weather...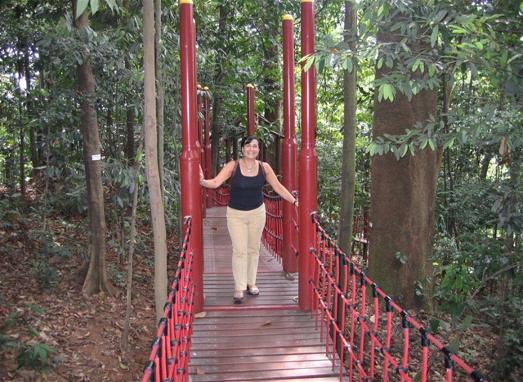 Crossing a hanging bridge in the middle of the jungle.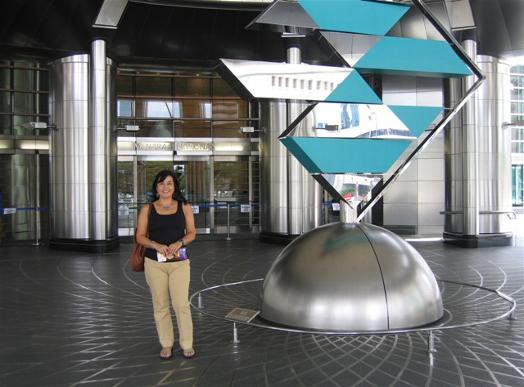 At the base of the Petronas towers.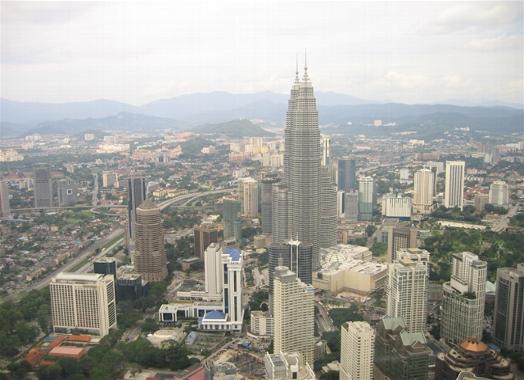 View from the top of the KL Tower.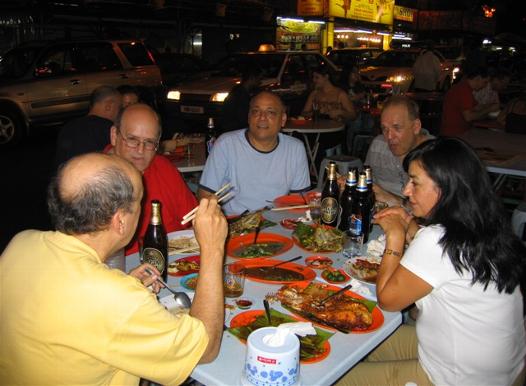 And now the best part of all, enjoying some hawker food in the street...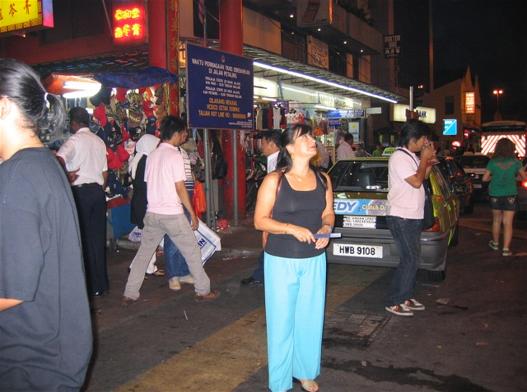 A taste of Chinatown at night...and those pants barely survived the trip!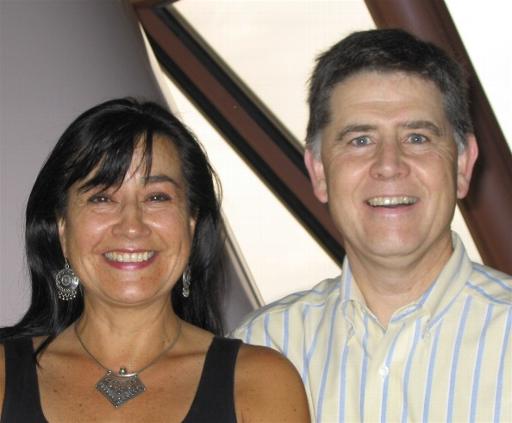 Monica wanted me to include this photo, which was taken by a tourist at the KL Tower.
London, UK (March 2007)
The early part of 2007 was unusual and very nice since Monica accompanied me on more business trips than usual. She likes to travel to the UK every year since we lived there some years ago. I usually spend some time in Guildford (Surrey), where our office is located, and a couple of days in London. We had one Saturday to walk around the city.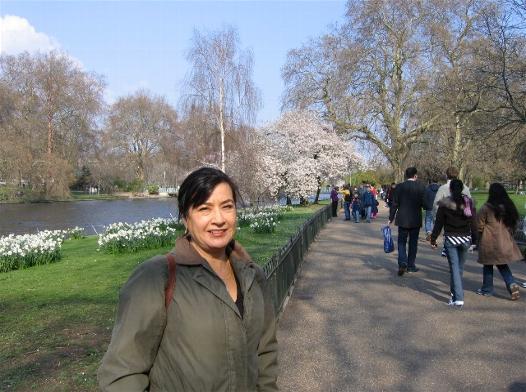 Enjoying Spring time in St. James Park in a sunny and cool day!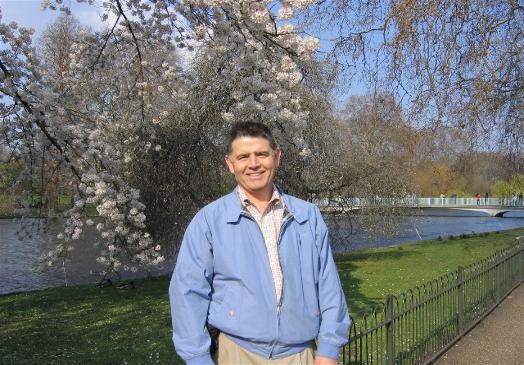 I had to pose also...to be allowed to take Monica's picture.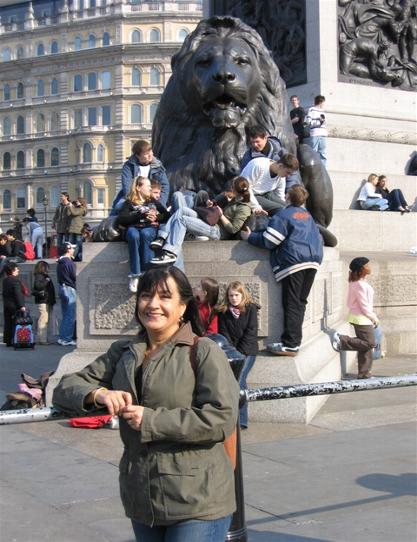 Passing by Trafalgar Square...popular spot for tourists.
New Zealand (August 2007)
In August 2007 we decided to travel south to celebrate our 29th anniversary. Once again, we shared the occasion with our good friends Ramiro and Heidi with whom we visited the North and South Islands of New Zealand. This was our first trip to New Zealand and we really enjoyed the scenery, the food, and just having a wonderful time together. We flew from DFW through Los Angeles while Ramiro and Heidi took the direct flight from Santiago to Auckland. We arrived a day earlier and just to humor Monica I didn't answer my mobile in the middle of the first night, but we found out later that the call was from Ramiro and Heidi who had forgotten the name of the hotel where we were staying. They had to wake everyone up in Chile to find out where they had to go. We got together in the morning and started the adventure with a nice Kiwi breakfast!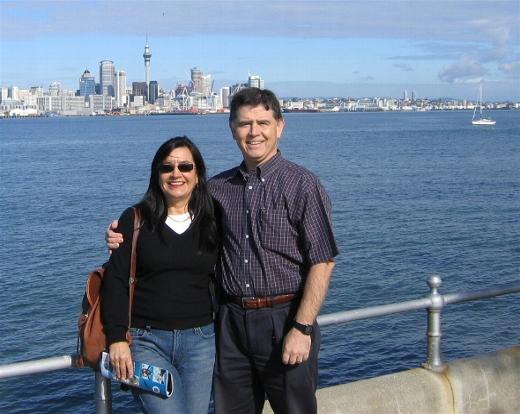 This was the first day of the trip, in Devonport, with a nice view of Auckland in the background.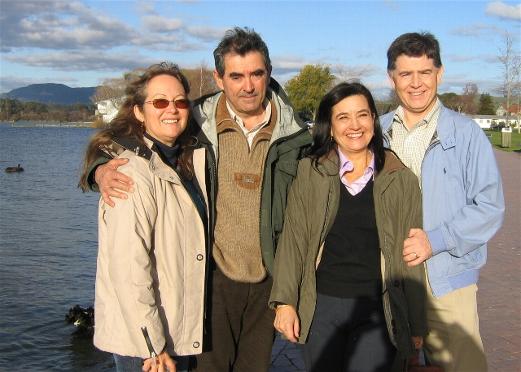 Our next stop after Auckland was Rotorua. This is a view of all of us by the lake. There was plenty to do and see in Rotorua, including a tour with a show at the Maori village.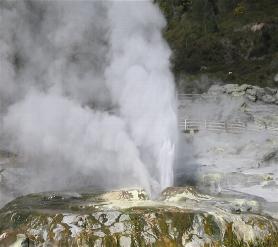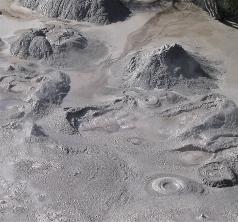 We were very lucky that the hotel we picked in Rotorua had this view from our bedroom window; others had to pay 50 bucks for the privilege of seeing this for a few minutes!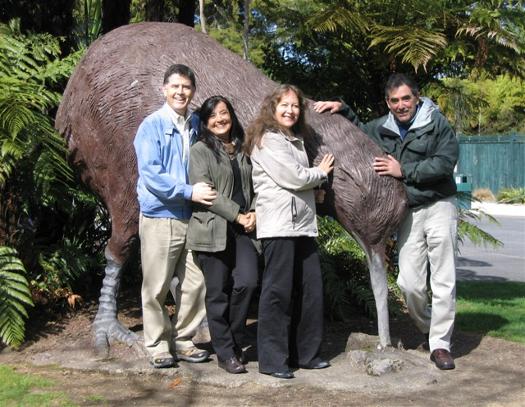 In Rotorua we also visited the Kiwi village where they are trying to ensure that various varieties of Kiwis do not become extinct. They are doing a very good job and it is very interesting to learn about the habits of this national bird! I bet most of you thought that the "Kiwi" was just a fruit; if that was the case, you can learn something new just as we did!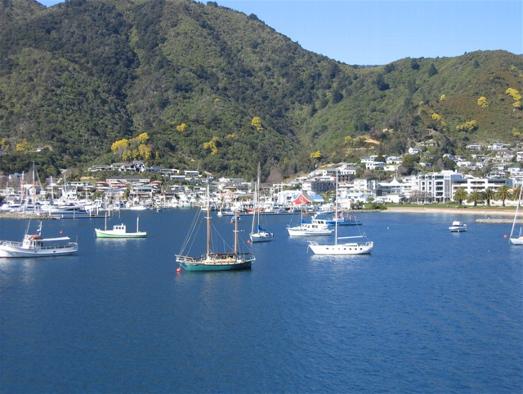 After driving across the North Island we took the ferry from Wellington to Picton in the South Island. The scenery was spectacular and I don't want to bore you with all the photos. This is a view of Picton as we arrived on a sunny winter day.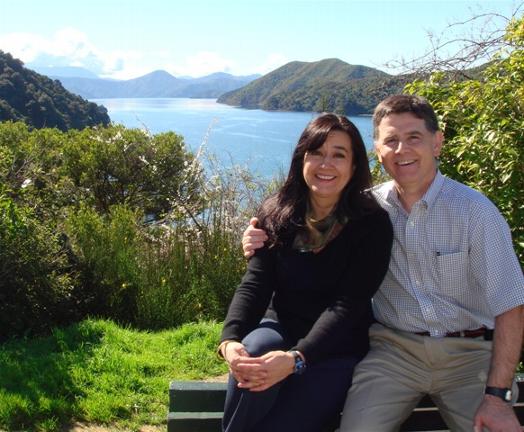 Shortly after leaving Picton in a new rental car, where the challenge was to fit all the luggage in the trunk (one forgets about this when you are used to driving a Ford Explorer), we found this great spot with a beautiful scenery to take some pictures. I must admit that all the pictures that I took are not nearly as good as the ones taken by Heidi (professional photographer?), so I replaced our website identity with this particular shot!
From Picton we drove to Nelson, where we spent a couple of days. The first night at a nearby bar/restarurant, where we watched a lunar eclipse, the owner suggested a fantastic tour of the northern part of the South Island. The first stop was Rabbit Island, where this picture was taken. It was really nice and spectacular.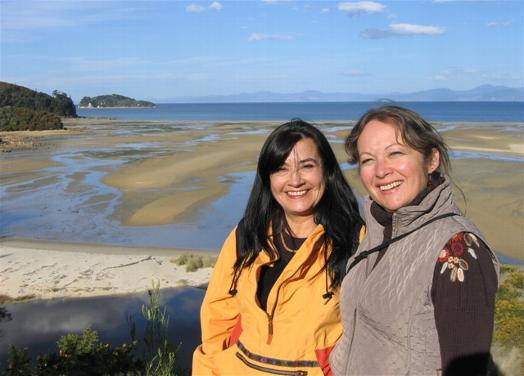 We next stopped at Kaiteriteri, a beautiful beach on the way to the Abel Tasman National Park which is where these beauties are posing! From here we took a short hike to Coquille Bay, a beach with lots of mussels and what we would call in Chile "choros zapatos." The mussels in New Zealand have a "green" colored shell; the people there were surprised to know that mussels also came with a black shell!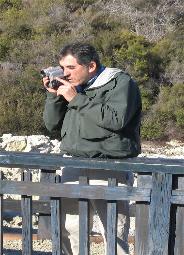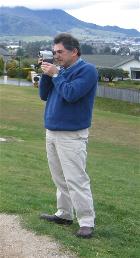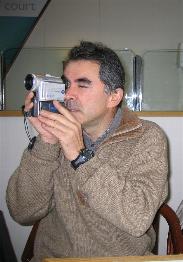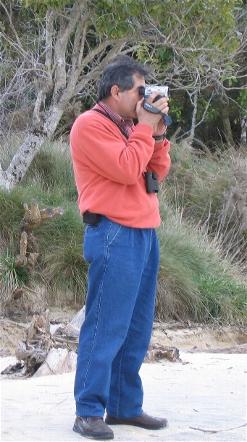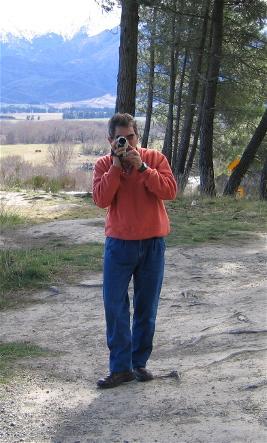 No matter where we went, Ramiro kept filming and filming; he never stopped! It seems that he was obsessed with filming the sequel to "Lord of the Rings." We were in New Zealand after all, so who can blame him for the enthusiasm!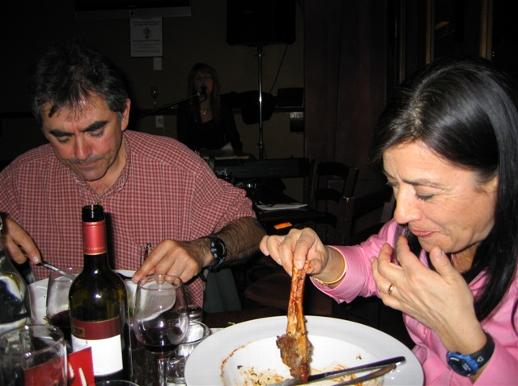 After spending more than a week in New Zealand, crossing all of the North Island and part of the South Island, we finally were able to enjoy some nice lamb chops in Christchurch. Monica couldn't hold back and finally was able to chew the ribs all the way to the bone! (Ramiro also looks pretty serious in attacking his meal...)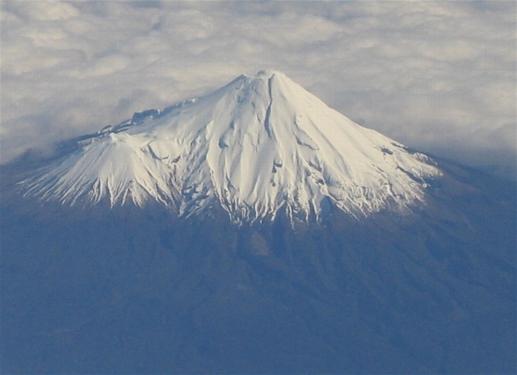 On the flight back from Christchurch to Auckland, we saw this beautifull view of Mt. Taranaki, one of many volcanoes in New Zealand. We really enjoyed the scenery and country overall!!!
Tokyo, Japan (October 2007)
In late October, Monica flew from Chile to Texas to join me on a trip to Japan during the first week of November. It was a business trip for me in which we were participating in an exhibition, but since I did not have to travel around the country, it was a good opportunity for us to travel together.
We stayed at the hotel Nikko Tokyo, overlooking the Rainbow bridge and Tokyo Bay, with a view of Tokyo Tower in the distance. It is a very nice area, close to the Big Sight Exhibition Hall and with excellent transportation to any of the downtown Tokyo locations.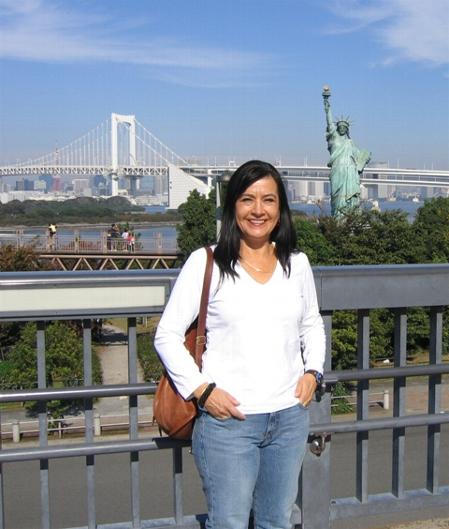 This is right in front of our hotel, with Rainbow bridge and "Little Liberty" in the background. "Little Liberty" is a smaller replica of the Statue of Liberty (located in New York harbor), on loan from France. Some day it is supposed to go back to France.
Have you ever seen these many people crossing the street at once?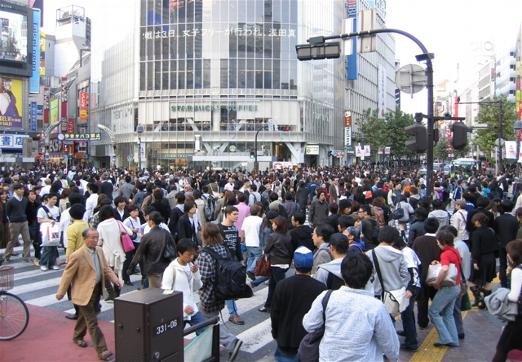 This is just outside Shibuya station. Pedestrians just got the green light, which lasts a minute or so. When the light turns red, you don't see anyone on the street and the cars can make it through.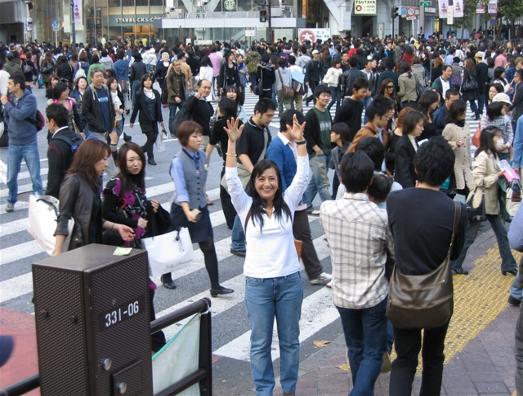 Monica had to wave for me to find her within the crowd.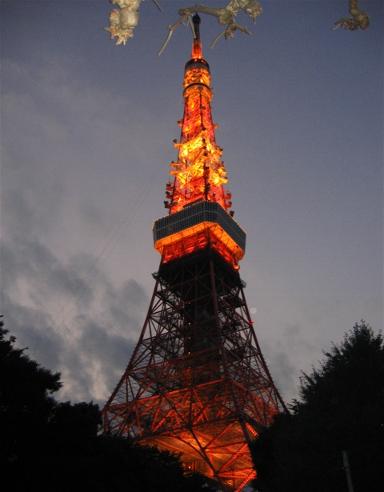 Later that evening we walked to Tokyo Tower, which is an impressive sight after sunset.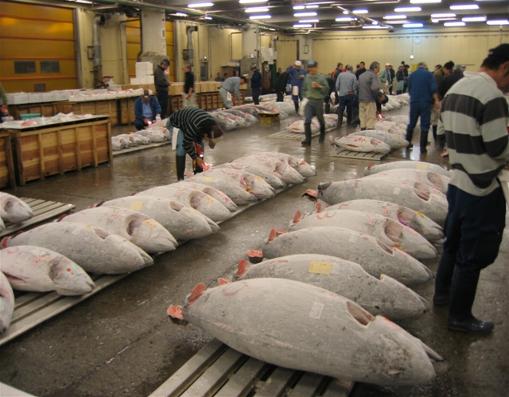 One early morning, we left the hotel around 5:00 am, to reach the Tokyo "Tsukiji" Fish Market and witness the tuna auction that takes place every morning at 5:30 am. Here you see some of the tuna that were ready to be auctioned that morning.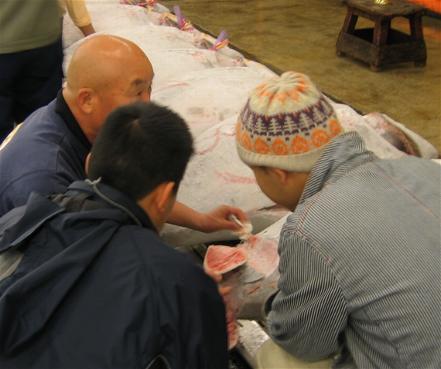 The tuna are inspected very carefully before buyers commit to tens of thousands of dollars for any of them.
If you want to hear what the tuna auction sounds like, click here.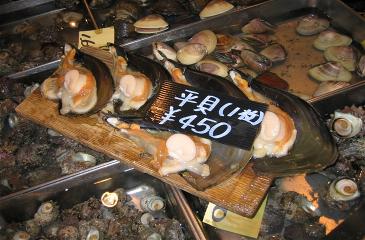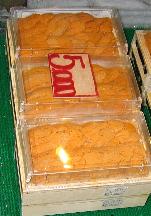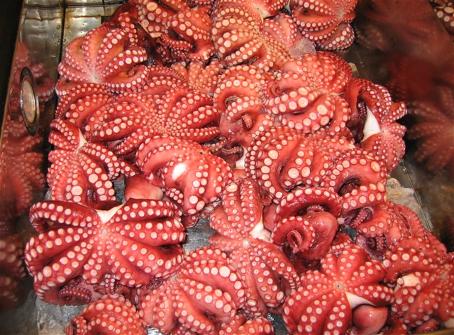 These are some of the products you could find at the fish market. From top to bottom (l to r): Huge mussels about 30 cm long, sea urchins (our favorite), and octopus.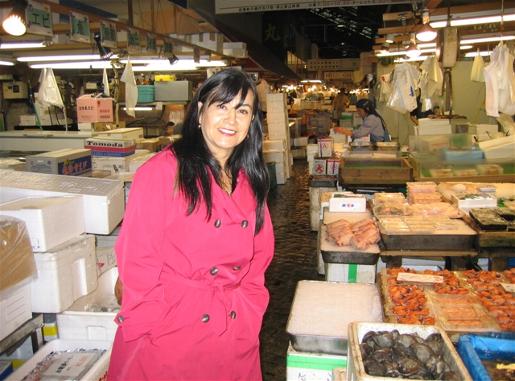 We checked out the whole fish market after the tuna auction was over, finding lots of things that looked really tasty. It was an impressive site!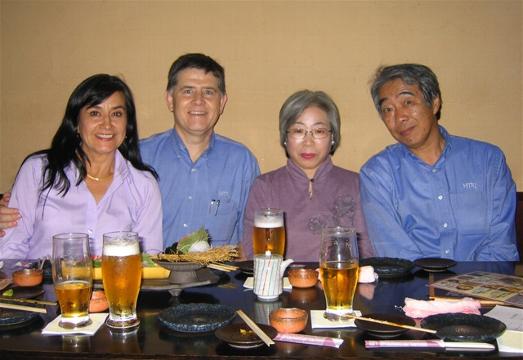 One of the evenings we got together with my colleague and friend Hirohisa Uozu and his wife Michiko for a wonderful Japanese meal in the Tokyo Ginza area.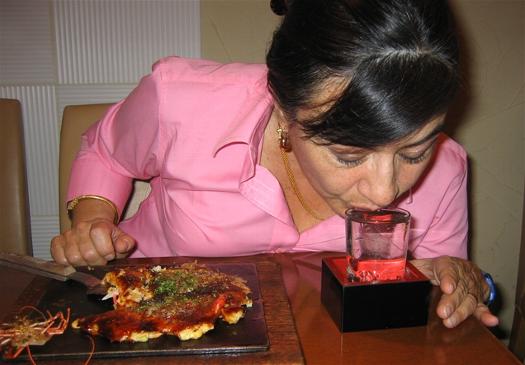 Do you know the traditional way to drink Japanese sake? Monica is giving you a demonstration as she had lots of practice doing this all week long. And she really enjoyed it...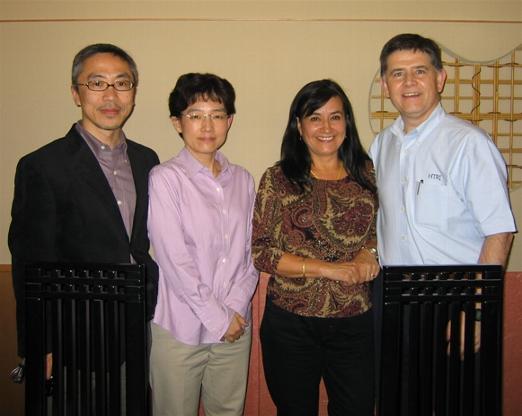 On the last evening, before returning home to Texas, we got together with our friends Eiichiro and Miyoko Uraji. We enjoyed a nice traditional Japanese dinner, once again in the Tokyo Ginza area.